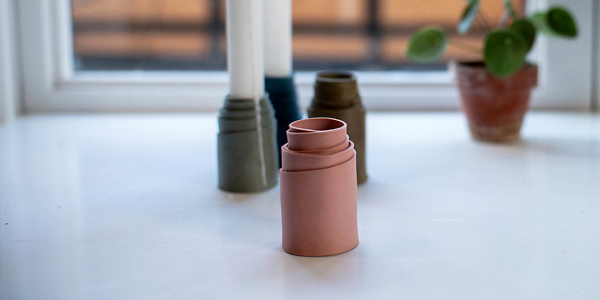 There is so much beautiful ceramics in the world which makes it difficult to choose the best. However, we have found some skilled ceramists who´s work range from classic to more experimental pottery.
In Denmark, we have proud traditions of making ceramics of a very high quality. We also have some highly skilled and innovative ceramists who master the classic pottery art, stoneware, and the refined porcelain.
Sara recommends handmade ceramics
Handmade ceramics is simply fantastic! Whether it is mugs, cups, bowls, dishes or plates, there is just something wonderful about handmade ceramics, when the ceramist's personality and skills are displayed in the clay and glaze. It is unique, and that is why I love it.
We have almost only handmade ceramics in our kitchen. Of course, we also have the beautiful cups and plates from Royal Copenhagen, but there is something cool about the fact that things are not alike, that the shape and glaze vary, and that the craftsman's personality and skills are reflected in the clay.
In our physical stores we have much more ceramics than you can see here on the website. We have the most gorgeous bowls and dishes from Henrik Pottermager from Birkerød Pottermageri, the most amazing candlesticks from skilled Danish potters, among others. Lone Pedersen - LoPe ceramics and cups from Ember Keramik by Emily Bergstrøm.
Handmade ceramics
It looks so easy when a potter is throwing a dish on the wheel, but it is not as easy as it looks. It requires education and many years of training before a ceramist masters all the processes of working with clay. Even those with a steady hand, who can make ceramics of a high uniform quality, will make pottery where no two pieces are alike. That is exactly the beauty of handmade.
Manufacturing of ceramics
Ceramics is really just a term for fired clay. There are several different ways to 'fire', for example using different temperatures and clay types, which give different ceramic products. But whether you make ceramic raku, pottery, earthenware, stoneware or porcelain, the manufacturing of ceramics requires some basic manufacturing steps:
The raw material is kneaded to ensure an even moisture content and to remove air bubbles. The clay is then shaped either by hand or by means of tools such as the pottery wheel. Water is added to the clay to keep the clay malleable during processing and to prevent cracks.
Molded products require trimming or further preparation on the wheel to achieve a uniform thickness or to put a foot, spout, or handle on the item. This can only be done when the item has become leather-hard.
Now the clay must be air-dried until it becomes firm and dry to the touch. At this point, the clay bodies are very fragile and need to be handled with extra care. The surface must be treated with fine sandpaper to make it completely smooth.
The pottery is often pre-burned in an oven and after firing it is called 'annealed ceramics' or bisque.
Annealed ceramics usually have red, white, or brown colors, of course depending on the type of clay. It can be decorated with glaze and fired again at a higher temperature.
For raw glazing, the workpiece is not annealed until it is glazed.
The selection of ceramics
We try to have different types of ceramics on the shelves, which include works of applied art, decorative ceramics, and state-of-the-art.