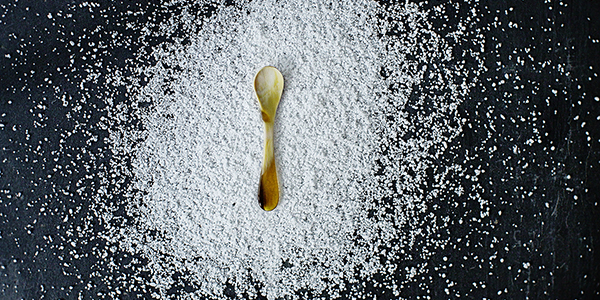 It is hard to find a home that does not have a salt grinder or a small salt cellar on the dining table, giving us the possibility to choose ourselves how much salt we want with our food. That is why our salt spoon in horn has found its way to so many dining tables, as a useful tool for dispensing salt and because it is a refined natural product.

Design
It is not that easy to make a salt spoon: it cannot be too long, nor too short. It must not weigh too much, and primarily it should of course dispense salt just perfect. Over the years we have made several different salt spoons which have met different criteria. With our latest salt spoon Sara has made an all-round salt spoon, which has found a nice balance between length and weight as well as the spoon's dosing ability. The spoon is simply called 'Salt spoon' and has item number 50001.

You can, of course, use the little horn spoon for something other than salt. We also use the spoon for caviar because it is small and does not give off flavor to the delicate caviar.
Why choose a horn spoon for your salt?
There are several good reasons why you should use a salt spoon at the table:
1. You prevent your fingers from touching the salt.
2. A horn spoon does not give off flavor to food such as salt, eggs or caviar.
3. It is pleasant to eat with a horn spoon, as the horn material feels 'warm'.
4. A horn spoon is a 100% natural product.
Order today and get: Fast delivery - No fees - Approved payment solution - e-label - FREE shipping in EU on purchases over 100€.
Salts
It has become trendy to salt food with natural salt and processed salts. Salt has historically been used as a preservative and as a flavor enhancer, which it is primarily used for today. There are various kinds of salts, and in Japan there are hundreds of different kinds of salt being used for cooking, which all have different tastes and content of minerals.
Natural salts
Salt exists in nature in large quantities, commonly known from the sea, but salt can also be mined directly from salt mines, like e.g. rock salt from the Himalayas, which has a characteristic pink color. In Denmark, 'sydesalt' has been a widely used method of extracting the natural salt from nature. 'Sydesalt' is produced by heating concentrated salt water in large iron pans over a heat source. This makes the water evaporate, and when the salt layer is saturated, the salt crystals will accumulate on the bottom. The salt mass is then raked together and scooped up before it is dried one last time to get the last water out. 'Sydesalt' is made in several places in Denmark, including Læsø Sydesalt, Mariager Sydesalt and several other places.

Processed salts
Within the last decades, there has been a steady stream of processed salts produced. These new types of salt have added flavors such as spices, smoking or how about a salt that tastes like smoked bacon, red wine or parmesan cheese?

An all-natural product
Our horn is a 100% natural product. We do not add any varnish or chemicals so you can feel safe using our spoons for babies, children and adults. The horn spoon achieves its high gloss only by removing horn material when we process the spoons. It is important that you treat the salt spoon correctly, e.g. while cleaning the spoons. The salt spoon is ideal for dry goods because there is no moisture to damage the horn. However, it is important that you follow the instructions that you receive with the spoons or find on our website.