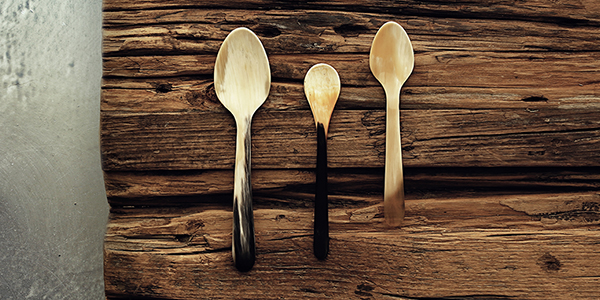 Although we today make many different horn products, the horn spoons are and will remain our signature product, our DNA. We know that we make some of the world's best horn spoons when it comes to design, quality and sustainability. We provide complete transparency of our production and you are welcome to visit the factory in Bøvlingbjerg, where you can see with your own eyes how we make our spoons. On YouTube, we've uploaded some videos where you can also see how we make some of our most popular spoons.

Why should you choose a horn spoon?
There are several good reasons why you should eat with a horn spoon:
It is pleasant to eat with a horn spoon as the material feels 'warm'.
A horn spoon does not give off flavour to the food you eat e.g. eggs or caviar.
Babies like to bite into a horn spoon because the horn feels 'soft' on their gums.
It is based 100% on a natural product and each piece is unique and naturally beautiful.

You can use a horn spoon for many kinds of food e.g. jam, mustard, salt, caviar or simply to eat with.


Natural product
Our horn spoon is a 100% natural product. We don't add any varnishes or chemicals, so you can feel perfectly safe using our spoons for babies, children and adults. The horn spoon achieves its high gloss only by removing horn layers when we produce the spoons.

We take great care when it comes to food safety, which is why ALL spoons are made at the Hornvarefabrikken in Bøvlingbjerg in Denmark. The raw horns and the entire production process is controlled, using only materials and tools that can be used for food. An important part of food safety is to treat the horn spoons correctly e.g. while cleaning the spoons. Therefore, it is important that you follow the instructions that you receive with the spoons or find on our website.

Order today and get: Fast delivery - No fees - Approved payment solution - FREE shipping for purchases over 100€.
Design
Our design pays homage to the Danish design tradition, where we value simplicity and clean lines highly. Several of our designs are over 80 years old and go back to the Husted family, which founded the factory. In 2010, Sara decided to design a new spoon collection with a uniform design of all the spoons from the smallest to the largest. Sara once again pays tribute to simplicity and a modern expression which gives the spoons a timeless touch. The amazing craftsmanship and the Nordic style of the horn spoons have earned them a place in many Michelin restaurant in Denmark and abroad, as in specialty stores and many private homes.