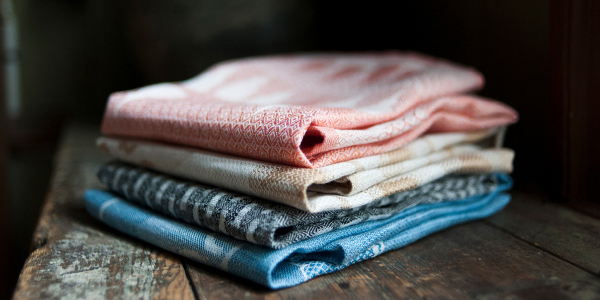 For several generations Klässbols Linen Weaving Mill has woven home textiles in linen, such as tea towels, tablecloths, table runners, and napkins. Linen is PURE and NATURAL sustainability.
Today, the weaving mill is one of the few remaining weaving mills in Scandinavia which still weaves real damask in 100 percent linen. Klässbol's linen textiles such as linen tea towels, linen table runners, linen tablecloths, and linen napkins are created in collaboration with renowned designers, who combine both the classic and the modern. You find Klässbol's environmentally friendly products in many private homes, public buildings around the world, but also at the prestigious annual Nobel banquet, and Klässbol are Purveyor of the Court of Sweden.
Sara recommends
Flax and linen textiles are modern because more and more people are discovering the benefits of flax fibers, such as its ability to absorb and evaporate water, which ensures healthy fabrics with a long life. We are particularly pleased with Klässbols Linneväveri because there are very few weavers who can weave linen in such superb quality.
True sustainability is products with a long lifetime
The most sustainable products are the ones that you can use again and again, year after year. Low-quality products or products of questionable materials need to be replaced more often. The opposite is the case when it comes to Klässbol's linen products, which last for many, many years if the flax fibers are treated properly. All products from Klässbols are GOTS-certified and hold the Swedish eco-label "Bra Miljöval".
Healthy and natural fibers
When you get a brand-new linen towel, which is shiny and stiff, a lot of people might think: "How can this tea towel be used for drying dishes?" But in fact, linen is absolutely incredible because linen has a really good absorbency, which means that it can absorb more water than other materials, and at the same time the water from linen evaporates much faster than from e.g. cotton, which makes your tea towels healthy because they are more antibacterial.

How do you care for your linen articles?
Linen is easy to handle when you take proper care of it. Here are some quick guidelines on how to give your linen textiles a long life.
Materials

Care instructions

Unbleached linen

You soak unbleached linen in warm water BEFORE the first wash - preferably overnight. Tightly woven linen products can be soaked for 24 hours. This prevents the stiff fibers from breaking when they are washed for the first time.

Colored linen

Colored linen is soaked in cold water for a few hours before the first wash. Tightly woven linen products can be soaked for up to 24 hours. Then the fibers do not break, and it is easier to work with.

Linen (washing temperature)

You wash linen at 60 degrees. In some cases, you can go up to 80 degrees, but not higher, as the high heat will destroy the elasticity, shininess, and strength of the linen. In general, follow the washing instructions that come with the product.

Linen (detergent)

You should ONLY use detergents without bleach and optical white. Both to consider the product and the environment.

Linen (spin)

Spin should be as short and gentle as possible.

Linen (drying)

It is very important that you dry linen in the following way:

1. The linen is smoothed and stretched while wet.

2. Do not dry linen in bright sunlight.

If properly dried, you should expect the linen to shrink 5-7% both length- and widthwise.

NEVER put linen in the dryer

Linen (ironing in general)

You must iron / roll the linen before it is dry.

Linen tablecloth (ironing)

Roll the slightly damp linen tablecloth / table runner smoothly and tightly around a plastic tube and let it dry on it.

Linen & red wine stains

You treat dried red wine stains by dabbing glycerin on the stain. Then place the tablecloth in a plastic bag overnight and wash as directed or at 60 degrees.

Linen & other stains

Dab the stains with detergent without color and then wash as directed or at 60 degrees.