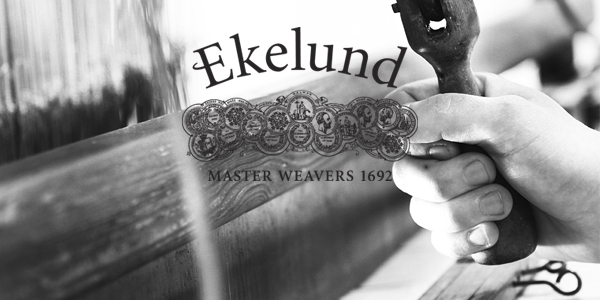 We love good craftsmanship and great design - and therefore we absolutely LOVE Ekelund Weavers.
Sara recommends Ekelund
Sara and the family use Ekelund's tea towels, napkins, and other home textiles in their private home daily. And four teenage children do some wear and tear on it, but the quality textiles can take being used. Not only are the fibers soft and durable, but the designs are completely unique and with a backlist dating back to 1692, there is a treasure chest of great designs. It is Swedish design at its best!
World-class home textiles
You do not doubt the quality once you have touched and felt Ekelund's products. It is pure quality where only the best fibers have been used, woven with years of experience, and expressed in the most amazing designs.
Ekelund's home textiles
Ekelund's product catalog is huge. Ekelund makes everything from tea towels, dishcloths, towels, napkins, placemats, tablecloths, table runners, pillows, pillowcases, plaids, rugs, mats, floor mats and carpet runners.
Full focus on the environment
It is hard to find companies that are as environmentally friendly as Ekelund. It is quite impressive how they have incorporated sustainability into all parts of their business. This applies to the fibers and textiles they use, all of which are organic or GOTS certified. GOTS (The Global Organic Textile Standard) is a standard for organic fibers which is known and recognized throughout the world. But their entire production is also permeated by the fact that we must take care of nature, society, and each other.
About Ekelund
Ekelund was founded in 1692 and is today 100% owned by the family – which is fantastic. The weaving mill is located on the Swedish west coast not far from Gothenburg, where all the production takes place still to this day. Over the years, Ekelund Weavers has gone through a renewal from the classic looms to the most modern technology in the field.