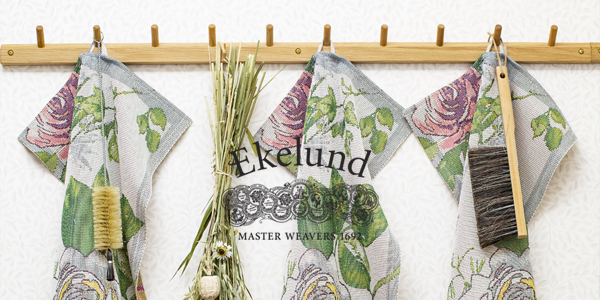 The tea towels from Ekelund have two advantages: They have excellent drying qualities, and they are beautiful and decorative when hung on a hook in the kitchen. The fact that they are also made of sustainable and organic materials just makes the design tea towels even more attractive.
Sara recommends tea towels from Ekelund
We have the tea towels at home, and we use them at a daily basis, with all the wear and tear that includes: - We have a home with four children living at home, who use them for potholders and coasters, and the tea towels are still just as beautiful as when we unpacked them.
Design and sustainability
Ekelund's products are easy to recognize with their many colorful designs and their beautiful classic patterns. Ekelund is also one step ahead when it comes to taking care of you and the environment. They set high requirements for the materials and use only organic materials such as GOTS-certified yarns.